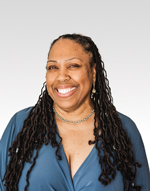 Afrika Afeni Mills
Request Availability
Afrika Afeni Mills is a Director of Diversity, Equity, and Inclusion and an education consultant. She works with colleagues, teachers, coaches, and administrators to transform practices. Before these roles, she gained extensive experience as a classroom teacher, instructional coach, teacher developer, and school administrator since 1999. Afrika has been featured on podcasts, blogs, delivered keynote addresses, and facilitated sessions at conferences across the United States. Afrika believes that all educators can be motivated, engaged, dynamic practitioners and leaders when provided with the support needed to create student-centered, antibias, antiracist, culturally responsive learning environments that inspire wonder and creativity and nurture true diversity, belonging, equity, and inclusion. Recognized for her contributions, Afrika was named among Brightbeam's Top 22 Education Influencers of 2022 and is an active member of the National Council of Teachers of English (NCTE) and Learning Forward. She holds an M.Ed. in Elementary Teaching from Boston College's Lynch School of Education and Human Development, graduating at the top of her class.
---
Expertise
Racial consciousness development
Racial healing
Culturally Responsive and Sustaining Instructional Practices
Anti-Racist/Pro-Human Instructional Practices
---
Workshops
Open Windows, Open Minds
Educators who are interested in continuing along a pro-human path must recognize that racialization has harmed all of us, including our students. Traditional curriculum has provided inaccurate messages about our identities, history, and understanding of the damage the social construct of race inflicts on society.
When we approach teaching in a pro-human way, we create learning opportunities that help students recognize and value the perspectives, experiences, identities, and contributions of all people.
The Open Windows, Open Minds Institute will show you how to do this crucial work. Building on the content of the book Open Windows, Open Minds: Developing Antiracist, Pro-Human Students, this institute offers an approach to teaching and learning that can equip teachers and students as informed, empathetic, inclusive, racially and historically literate global citizens who genuinely value diversity and will actively engage in pro-
Engaging in Challenging Conversations in the Classroom
At some point, we all need to engage in challenging conversations, though we often find ourselves ill-equipped to engage meaningfully in these discussions. Self-preservation and fear can keep us from speaking up when we need to. This workshop will give participants the tools they need to support students as they learn to take a proactive approach to challenging conversations.
Exploring Facets of Humanity and Belonging in the Classroom
Building on the Learning for Justice Social Justice Standards Identity domain, this workshop will support educators who are seeking to discover the facets of their students' humanity and increase the sense of belonging amongst the students in their classrooms.
Family, School, and Community Partnership
Authentic partnerships between schools and families is an integral part of a healthy learning community. Using the design process of empathizing, defining, imagining, planning, testing, and improving, participants will learn how to create and sustain partnerships with their students' families.
Reimagining Classroom Management
In order for students to learn effectively, they need to feel safe in our classrooms. Unfortunately, some of our classroom management practices keep students from being seen, heard, protected, and treated fairly. Building on Rosetta Lee's framework for inclusive classrooms, participants will learn how to co-create learning environments and experiences that center dignity, engagement, and student agency and voice.
---
Related Titles
This is a carousel with related book cards. Use the previous and next buttons to navigate.